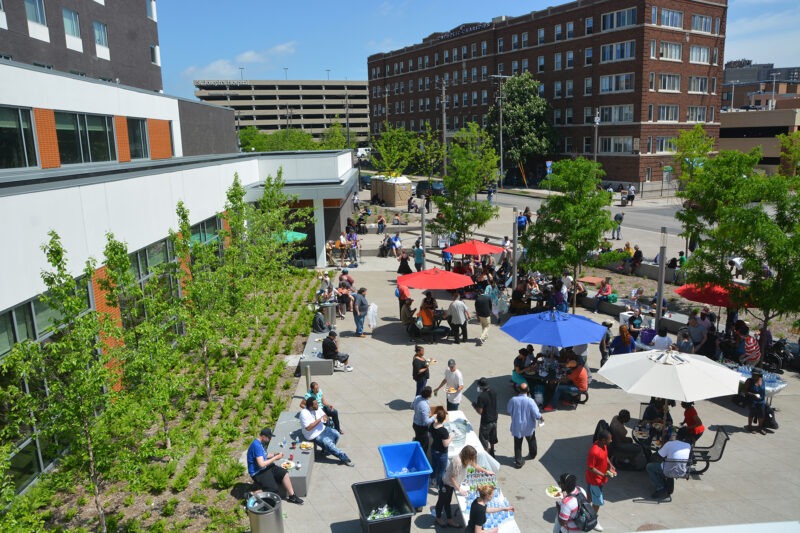 Catholic Charities of St. Paul and Minneapolis' (CC) mission is to serve those most in need and to advocate for justice in the community. With programs located throughout Hennepin and Ramsey counties, CC serves a wide spectrum of clients, including children and families, older adults and people with disabilities, and individuals seeking emergency shelter or looking to obtain permanent housing. CC and its team of five hundred and thirty eight employees build and manage housing throughout the Twin Cities, where they provide shelter and resources while respecting the individual needs of their clients – whether that's offering ongoing support to folks looking to live independently or working through chemical dependency.
Catholic Charities goes upstream by respecting the natural spaces that play a crucial role for many of their clients; with some clients living outdoors, "it's logical that we connect the importance of nature to our clients and their livelihood," says Michael Goar, President and CEO. CC ensures that they are creating both interior and exterior space that their clients can enjoy. One of their sites, Dorothy Day Place campus in St. Paul, is home to a big plaza with green space where clients can enjoy the outdoors. During warmer months, CC focuses their efforts on engagement and celebrations outside, including their annual volunteer-led cookout for residents.
In addition to their consciousness of the outdoors regarding their clients' livelihoods, Catholic Charities also models sustainable efforts in a number of other ways: designing buildings that utilize renewable energy and green spaces, creating interior spaces that feature natural lighting and incorporate colors from nature that support trauma-informed care, providing packed lunches to clients with an emphasis on recyclable materials, bicycling and bussing to events and work, as well as leaving no trace behind following events.