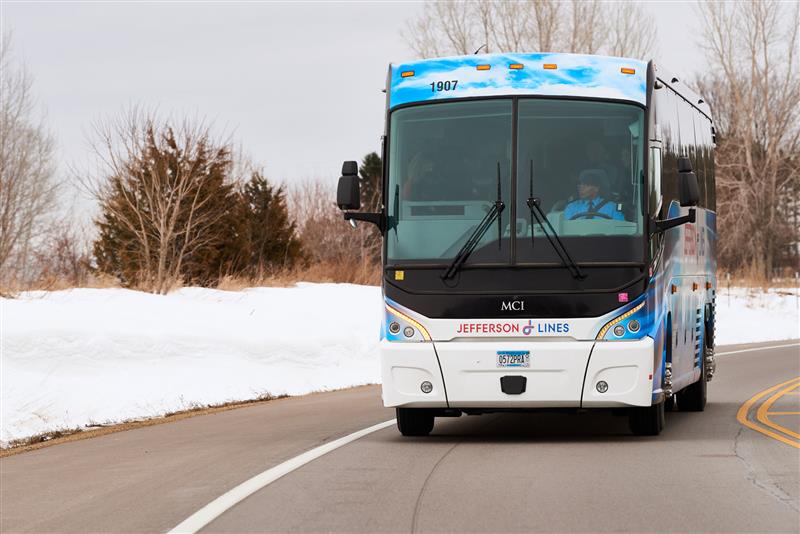 Since 1919, Jefferson Lines has been connecting people to places across Minnesota and beyond through intercity bus transportation – the most sustainable mode of long distance travel. Today the Jefferson regional network directly serves 170 communities across 14 states, with Minnesota as its home base.
With a fleet of 56 buses, Jefferson and their nearly 200 team members pride themselves on extending a transportation option to those who have come to rely on it – whether to visit friends and family, to attend school and significant life events, or simply to explore the places that make our state so special.
Nick Zelle, Jefferson Line's Community Awareness Coordinator, points out that intercity bus travel remains the most accessible and sustainable transportation option available, with service in more communities than all airports and Amtrak stations combined. "The high coverage of our routes," he says, "means that Minnesotans all across the state can benefit from this essential resource."
Jefferson boasts the newest fleet in the industry. The company's investment in cutting-edge operating systems and fuel efficient engines expand mobility for Minnesotans while reducing emissions. Jefferson believes Minnesotans deserve to enjoy and move around their state and the greater region in an environmentally responsible way.
Jefferson has a long history of caring for our shared places. Long before the State of Minnesota established a snow removal program, Jefferson plowed consistent major roads and highways, both with tractors and by hand. "Connecting people to places is one part of our mission," Zelle says, "but caring for those places along the way is an important and inseparable aspect of that work, too."