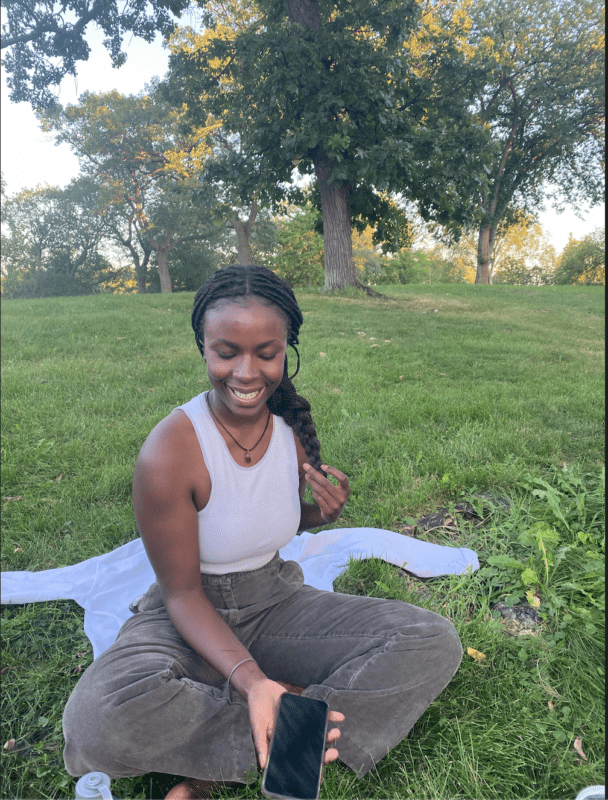 My name is Louise Ba and I am currently a senior at St. Catherine University in Saint Paul, Minnesota. I am from Minneapolis, Minnesota, but my family is originally from Senegal.  As a Political Science, Economics, and Public Policy major, it is not easy for me to find ways to connect nature and the outdoors into my career, but I've learned to integrate it into my lifestyle. To do this, I joined the Conservation Corps of Minnesota and Iowa (CCM) during the summers of my sophomore and junior years of high school and learned valuable life lessons. The second, which is the story of this piece, is about nurturing the connections I have with strangers outside of a world with technology.
Kenwood Park is a place I have fallen in love with due to the positive memories I have there, all facilitated by the tools I've learned from CCM. I first got introduced to it as a student at the Blake School in Minneapolis, a private high school near the Walker Art Center. Blake is a rigorous institution that places a high emphasis on academic excellence, so it was important for me to find ways for self-care/outlets to combat burnout. Kenwood became an outlet for me; it was close to school, I could walk there, and I brought friends there all the time. I remember a moment so fondly, it was a moment when I had a really enriching conversation with a complete stranger, a lesson I learned from CCM. My sisters and I would often spend our summers at Kenwood with paints and a picnic blanket, painting our days away. I remember a young mom walking past with her beautiful dog, and asking if I could pet her. She said yes, stopped by, and a conversation bloomed. I learned about her background, her beautiful daughter, and her life story, and we became fast friends. It was an honor to get to know her, an honor facilitated by CCM, and the natural environment that we were in.
See, CCM was a new environment for me, I was completely alone with crew leaders and youth that I didn't know. But soon, strangers became acquaintances, acquaintances became companions, and companions became friends. I still keep in touch with my friends from the program to this day, and I am attending my good friend's family reunion again next summer. Kenwood and CCM impact how I experience the outdoors because I am able to step out of my comfort zone. It is so very important to step out of your comfort zone, because through discomfort comes growth. The natural world has a knack for soothing discomfort, and facilitating growth, which is why I love this picture. The picture I chose above is one of my happiest moments at Kenwood! I had an overwhelming day and just went to the park and journaled and talked all the feelings away with my sister. Kenwood is special to me because I get to exist in a community with people who value the outdoors as much as I do, which doesn't make them strangers, it makes them friends!