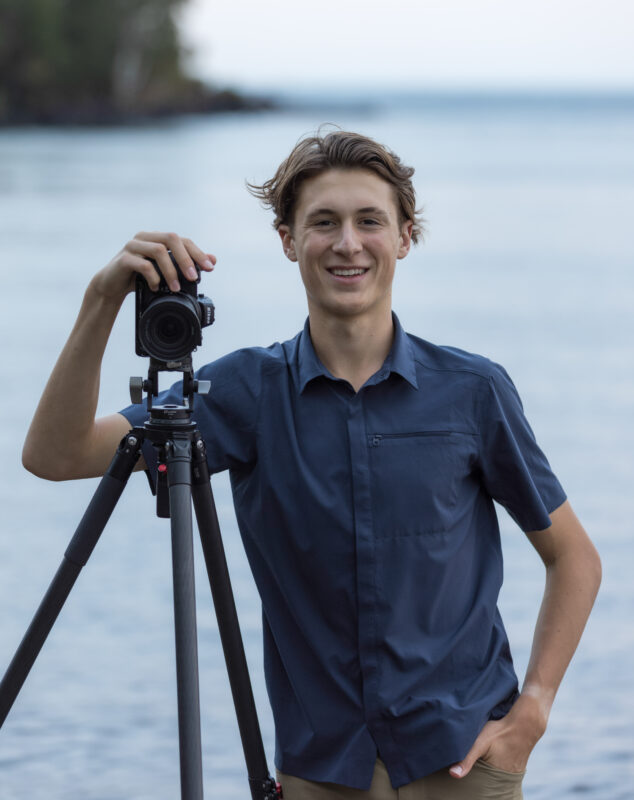 I am Colin Willemsen, an 18-year-old landscape and nature photographer located in Duluth, Minnesota. My mission revolves around finding and capturing distinctive locations, along with revealing the hidden splendor within well-known areas along the North Shore of Lake Superior. My experiences along Superior's shores have fostered a connection between the vast lake and the surrounding terrain. Through my photography, I aspire to express the reverence I hold for this special landscape. My passion is inspired by nature and I am a supporter of conservation efforts. It is my aspiration that my work not only showcases the beauty of the outdoors but also inspires an enhanced appreciation for the natural world.
How I got into Landscape Photography as a Teenager
Growing up in Duluth, Minnesota, outdoor experiences were readily available to me. But that doesn't mean that I always had the appreciation for nature, public lands, and the environment that I do now. In my earlier years, I resisted being hauled along on family hikes or adventures, too consumed with the more enticing childhood endeavors like playing with friends or watching TV shows. One day, something must've clicked. My dad would often haul an old DSLR camera along on our hikes along the North Shore and I was enthralled with how it operated and the way it could simply preserve a moment. On our hikes, I'd start to envision scenes that I spotted along the trail, telling my dad to take a photo of light hitting a waterfall or a butterfly resting on a flower. While I wasn't taking the pictures myself, I could visualize the end result. In hindsight, I recognize these early moments as a testament to my curiosity and the way I see the world as well as how it has shaped my passion for landscape and nature photography.
Several years later, I found myself borrowing my dad's camera during hikes, where I grappled with the technical aspects of operating it. Through social media, I became exposed to the stunning vistas and iconic locations near my hometown along the North Shore of Lake Superior. With these spots in mind, I constructed mental checklists of places I aspired to witness and capture. Taking on the role of the family trip planner, I selected destinations inspired by photographs I had come across online.
After sharing photos from my excursions on social media for a couple of months, I received the fortunate opportunity to attend a North Shore photographer meetup. It was during this event that I connected with friends who I still photograph with to this day. At the age of 15, being surrounded by individuals who shared my passion for capturing Minnesota's landscapes, I felt a genuine sense of belonging to a community. Establishing these connections and spending time with such a warm and welcoming group significantly influenced my passion for landscape photography. Reflecting on this experience, I wonder how my interest in photography might have unfolded had I not had the chance to be a part of it. Inspired by this experience I began to venture out on more frequent North Shore explorations. At this time I didn't have my driver's license yet, so I was fortunate to have parents who were willing to share these experiences with me. I was captivated by the idea of photographing sunrises over Lake Superior and I embarked on a relentless quest to capture the color of the predawn hour at many of the iconic North Shore locations. I believe it was the constant allure of nature that inspired me to remain consistent in my practice of photography, and this consistency allowed me to continue to improve.