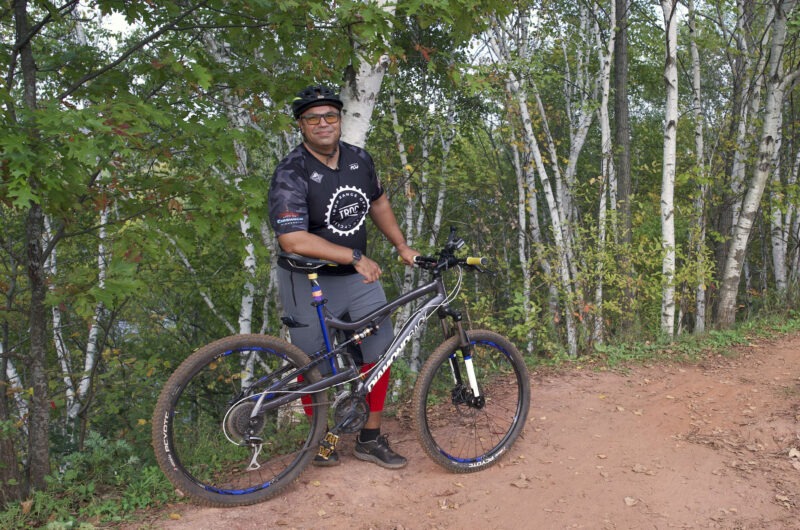 I was 11 years old when my mom decided I was "responsible enough" to ride my bike the one-and-a-half miles across town to the swimming beach with my friends.  That sense of freedom and adventure was the moment I fell in love with riding bikes. Now, 36 years later, I still love riding bikes with my friends and I really enjoy riding off road trails.  While I love to ride trails, I'm also passionate about building them.  As the president of the MN Off Road Cyclists (MORC), I lead a wonderful group of volunteer board members and together we manage the 17 trails that are all maintained through volunteer labor.
Finding new opportunities for MORC to partner with land managers and professional builders to bring new trails to a community is one of my favorite things to do.  Imagining a future with new natural surface trails providing riding opportunities for everyone for free brings me joy.  Working with partners to manage a natural space and ensure it continues to be a healthy outdoor space for everyone's benefit is my primary focus.  That focus is not just on the trail itself, but also the removal of invasive species and supporting the healthiest native natural areas as possible.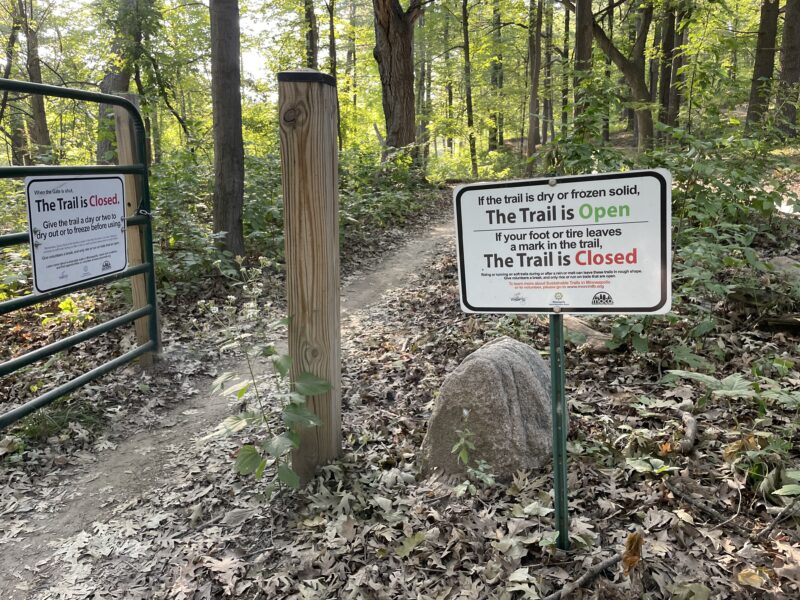 It makes me so proud when I see a trail that I know is the result of countless hours and extensive planning to bring into existence and then hundreds of hours annually to maintain.  In short, when I see a trail sign or a gate, I think of the volunteers you never see who continue to make that trail possible.  So, the next time you pass by one of these signs as you start your adventure be sure to think of the volunteer who checked the trail and opened that gate for you.  Think of the trail crew that spends hours every week removing invasive species, mending the trail surface, and ensuring as safe a ride as possible.  While you're pedaling around the trail and enjoying the great features that raise your heart rate, please take some time to slow down, look around and take in the natural beauty that surrounds you.
Recently, while on a hike at Theo Wirth with my family, we came upon some deer.  Two healthy bucks with nice racks on their heads and 3 young does.  We stopped, they stopped.  Everyone was taking stock of each other.  Just then, from the other side of the deer, two cyclists rode by.  We all turned and watched them as they buzzed by.  I say buzzed because that is the sound you hear from the bike's wheels.  As though the bikes themselves are another animal in this stand of woods.  After we watched the bikers go by, both the deer and my family all went back to what we were doing before we met.  The deer began grazing again and we continued down the trail.
As we walked I was filled with a sense of gratitude for the opportunity to experience this wild moment while the city skyline was in the backdrop.  I love these types of natural moments and I want to do all I can to ensure everyone who wants to get away and enjoy nature while also remaining close to home can easily do so. As I get older and a mile seems to get longer (surely it's not that I am more out of shape), I find that I enjoy trail advocacy and administration almost as much as I do riding. I choose to ride less and be in the meetings to ensure others have the chance to ride more.
I can admit that I have, more than once, found myself daydreaming in a meeting about some trail.  I see a parent's smile when they watch their child feel the rush and gain the confidence that only comes from conquering a new obstacle.  I hear friends talking loudly in forced breath as they pedal around the trail.  I see new bonds being made through laughter and words of encouragement or reminiscing about the ride that was just finished.  I remember why I fell in love with riding my bike, and I fall in love all over again.