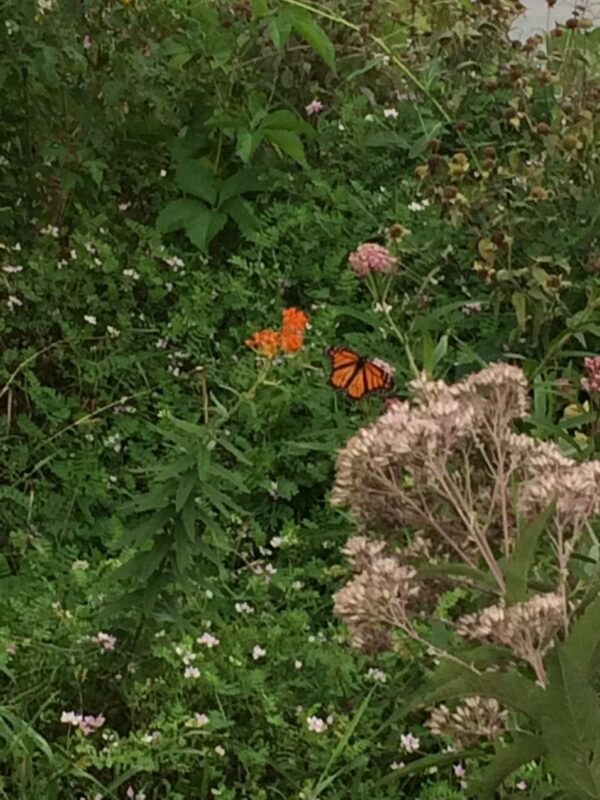 Debi Kohlhardt may not have been born in Minnesota, but this Jordan, MN mom loves where she lives.  Debi, who went to college in Moorhead, MN and now teaches yoga through Community Education in Jordan, takes a daily walk around Mill Pond Lake–the crown jewel of Jordan's park system. 
Debi walks rain or shine, in the cold or the heat.  Her morning walks are one important way she connects to her place.  Debi's family, including her husband who works for the county, take advantage of the many natural areas and resources in close proximity to Jordan, including the Nye Nature Center in Henderson and Richardson Nature Center in Bloomington.  
One morning, while on her walk, she noticed the city beginning to renovate the roads around her home.  One of the areas slated for redevelopment was a hillside with a butterfly waystation designation–meaning it housed pollinator friendly plants like milkweed and was and important spot for migrating monarchs.
Debi learned about the hillside through her neighbor who participated in a second grade class project at St. John's Catholic School. The teacher introduced students to identifying caterpillars, milkweed, and Monarch butterfly husbandry. The teacher conducted this project for years with local students. 
When the city was preparing to clear-cut the hill, and convert it to grass, Debi knew she needed to act on behalf of her winged friends.
Along with a  group of neighbors—including many of the folks who were part of the school group and the teacher—mobilized and convinced the council to change the plan and preserve the butterfly habitat.  Dozens of people showed up at the council meeting, and organized a letter writing campaign. 
After the city learned of the butterfly waystation, they worked with Alyssa Alness, a neighbor and ecological specialist with the Soil and Water Conservation District, to design and replant the butterfly habitat.  
Through the process—Debi, her family and their neighborhood has grown in their stewardship of the park, the lakeshore and the butterfly habitat.