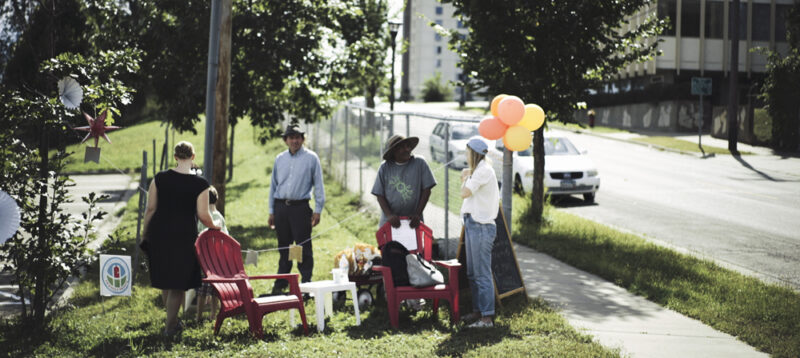 When Max Musicant and his group of neighbors left their apartment building when the fire alarm went off, he quickly realized something: he didn't know anyone around him. As the founder and principal of The Musicant Group, placemaking and public space activation firm, he knew something had to change. After a quick trip to the hardware store, he set out two $10 chairs in front of the apartment building and wrote, "Please sit here!" in black marker. Soon, neighbors began joining him for meals and spontaneous chats. He started learning their names, where they worked, about their family lives — they began forming meaningful relationships. Folks started using the chairs when Musicant wasn't there, and neighbors from across the block would stop by with their dogs. One small change had transformed the social environment of the building and the block in just three weeks.
This experience inspired Musicant to launch Friendly Fronts, an initiative that encourages folks to use their front yards and other outdoor common spaces as places of connection and community-building. After receiving a Knight City Challenge Grant, they piloted Friendly Fronts with 25 residents of the Frogtown and Hamline-Midtown neighborhoods in St. Paul and created the Friendly Fronts toolkit. Each resident received a $500 microgrant to make small improvements to their front yards, though Musicant stressed that just looking at a space differently is more important than big dollar investments. On average, residents met five new neighbors. One pilot resident reflected, "I always thought like, it's so hard to meet your neighbors, how do you do that? Now, sitting in front, you just say 'hi' and that's how it starts."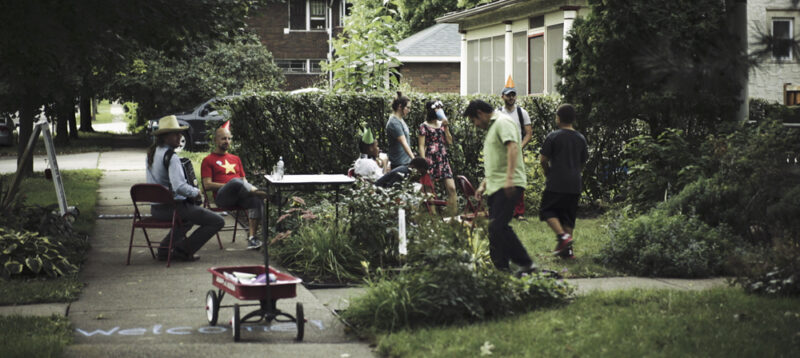 Friendly Fronts is helping create safer, more socially connected neighborhoods. Instead of controlling a space and discouraging use, Friendly Fronts increases a sense of safety by encouraging positive activity.  From mini-concerts to outdoor movies, from potlucks to fireside barbeques to hammocking, neighbors have come together in community. There is potential for beautiful natural spaces, too: "Our front yards are so underutilized, not just socially but for sure ecologically. They have the potential to support our broader environment: pollinators, other native habitat, or water retention features, for example, rather than just grass lawn," describes Musicant.
The Covid-19 pandemic left residents hungry for meaningful connection. And while meeting indoors was limited, the lifting of restrictions and creative use of outdoor space helped boost outdoor connection. This can happen outside the summer months, too: wintertime connection might look like building snowmen or sharing warm drinks around a fire. Friendly Fronts is helping reimagine connection, no matter the season or the state of the world.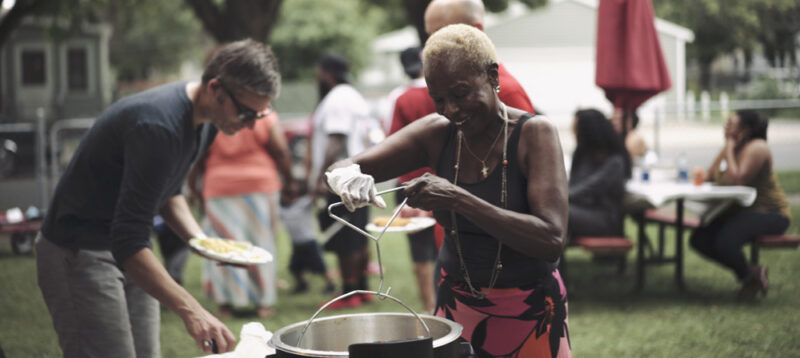 "All it takes is to shift people's view of what's possible for their yards. It doesn't take a lot of resources. It just takes seeing the potential, knowing the benefits, and making small adjustments to how they're caring for their environment and some of the ways they're spending their time," says Musicant.
Friendly Fronts is bringing care for our natural places into our neighborhoods and our front yards. And it starts with a small step: "Take that positive risk, break a rule in a good way, and put some chairs out there. See what happens."