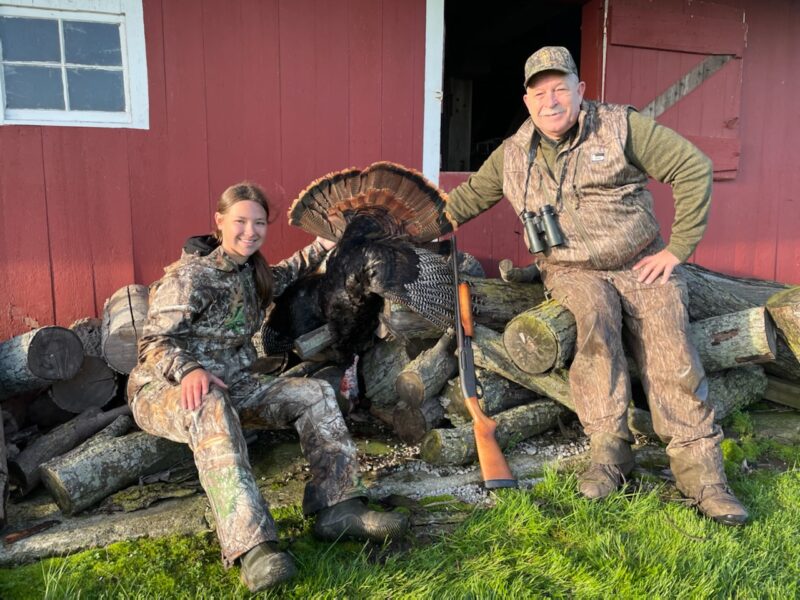 Tom Glines remembers one of the first times he went on a turkey hunt. It was in the fields and woods near Lanesboro in southeastern Minnesota's driftless region. It was a spring hunt, and the state was waking up from a long winter slumber. A lifelong hunter, Tom was comfortable in the still and quiet of the woods, but this hunt was different. He heard new sounds, including hearing a ruff grouse, and that experience helped him fall in love with turkey hunting and the community that supports conservation of turkey in Minnesota.
Tom is a first-generation turkey hunter in Minnesota, following the release of the initial flocks that were repopulated in from Missouri and other places where the birds had survived overhunting. He takes pride in passing along the experiences of turkey hunting to the two generations that have followed. This year he took two of his grandkids, Avery and Ezra, on their first hunt.
He has worked for National Wildlife Turkey Federation for 29 years, helping to ensure the birds can flourish because of healthy habitat, good conservation, and a strong culture among turkey hunters. "Turkey hunting is a conversation with nature. We're calling and the turkeys speak back," Tom describes the reasons that turkey hunting is unique and special to him.
Tom and NWTF are committed to a healthy Minnesota, to support a thriving turkey population and to ensure Minnesotans like Avery and Ezra have plenty of places to be in relationship with nature. NWTF works to expand the range of turkey in Minnesota and works with property owners to create healthy habitat for turkey and all the wildlife that makes Minnesota unique.
When Tom goes in the field now, it's most often with a new hunter. "I want to help people find that moment of connection like I had when I had my first turkey respond to my call."