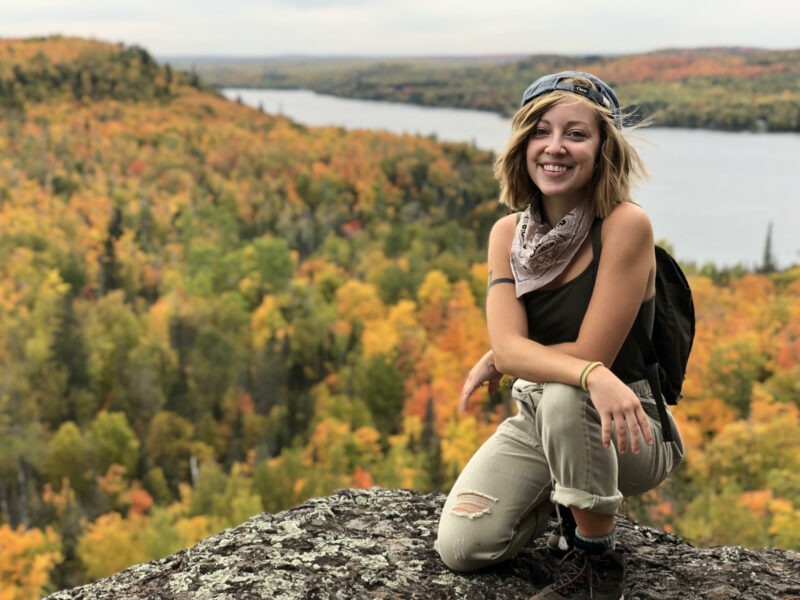 I teach in the English Department at Bethel University, and one of my courses is an introduction to academic writing. I was able to choose a topic for that academic writing to focus on, and that topic is biomimicry. I heard of the concept from Janine Benyus, who describes it as looking to nature's genius to provide solutions to our problems. For example, by studying the underground network of trees that offers nutrients to one another rather than compete with each other, we can learn how to coexist better in community. Meaning, rather than adopting a "survival of the fittest" mindset, we understand that our ability to survive is dependent on the relationships we form and how we fit into the world around us. My students are asked to write both reflective essays and research papers on their personal relationship to the natural world and what they can learn from it. My hope is that it will transform our perspective of nature not simply as a resource, but as a mentor so that we can respect the places we live.
When I consider the places that are meaningful to me, they're the outdoor spaces of my childhood. Growing up, I was a kid who was either relegated to the basement in the winter months or to the backyard in the warmer ones. I'm grateful for that now since it created a sense of curiosity and enjoyment of the natural world. Gull Lake in Brainerd, MN stands out in particular, since my family and I would spend all day on that lake swimming, pontooning, and diving for shells. I didn't realize how connected I was to my land of a thousand lakes until I lived in Virginia for two years — in a beautiful spot nestled in the Blue Ridge — but a spot with hardly any water. It made me appreciate this Midwest existence where you can toss a stone and hit a body of water to jump in.
In defiance of hustle culture and being overworked, I've recently tried to amplify the importance of play—and play for me often means being outside and getting curious about what's around me. Whether that's snowshoeing in the dead of winter or strolling the block at golden hour when everyone is off work, walking their dogs and chatting with their loved ones. I live in a Saint Paul neighborhood, but there's a nearby trail that gives everyone a space to wander, and it's become what feels like a sacred end-of-day ritual. We get to be unplugged from our screens and truly pay attention to whoever we're with and what surrounds us.
I care for my outdoor spaces by trying to witness and distill them in my writing. Setting plays a major role in my stories since I'm fascinated by the way people are shaped by their landscapes. Recognizing this has allowed me to appreciate my surroundings and share in that appreciation with others. In the same breath, while writing allows me to amplify the beauty of the natural world, it also forces me out of ignorance for all that is not beautiful—the shrinkage, commodification, and destruction of our natural spaces. I recently heard the term "solastalgia" coined by philosopher Glenn Albrecht. It's the experience of homesickness when you're already home, often due to the fact that climate disasters are altering our familiar landscapes. Though we're fairly privileged here in the Midwest, there were several days this summer when smoke from wildfires kept us from going outside. I'm still in a state of mourning as I process that we are past a point of return and these outdoor spaces I love will begin to look differently. It's important for me to capture both the despair and the joys through writing.